There are several parking slots around the street. But its often busy here, so I recommend to use the central Parking Garages, you can find in the Link-Button down below.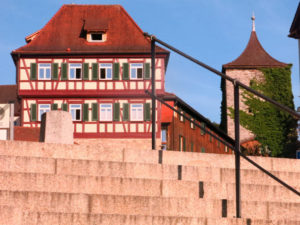 The building by itself is located in the center of the long curve along the Street. The entrance is in the lower part.
For orientation you find the Cafe/Bistro "Alte Wache" on the left, and a red-white barrier on the right.
If you use a Navigation-System, please follow the street all around the house to reach the lower part.
Am Säumarkt 11
74523 Schwäbisch Hall
This post is also available in: German